Administrator
Staff member
Administrator
Joined

Dec 13, 2020
Messages

84
Reaction score

51
Points

18
Dispute Origin
: Story
Synopsis:
Meta-gaming
, Yozu has multiple instances within her post where she is using OOC knowledge to determine IC actions via inaccurate methods and procedures, lacking clear reasoning for her proposed actions.
"Yozu Uchiha had been standing still, her eyes fixated on her kinsmen before her, it wasn't before long that something felt off, no something was off, activating her three tomoe sharingan, she looked down, under her she could see clearly the thousand upon thousand of wooden tendrils she had placed underground during the defence recently taken place. She took a moment and then from the distance, a small chakra supply seemed to rush forward, she didn't move, her right eye seeming to close in and focus on the supply. "
This action lacks clear reasoning as Yozu claims to have a "feeling" of something was off and then decides to use her Sharingan to look into the ground. When approached to discuss, she stated that it was due to her paranoia and that, Yozu, is a paranoid individual. Yet upon further inspection of her biography, there is absolutely no mention of Yozu ever being a paranoid individual. Even in her recent post, there was no mention of paranoia after Madoguchi's withdrawal.
As she knew this technique to be the Flying Thunder God technique, she could only narrow it down to three people. Ketsugo Uzumaki - While his Flying thunder god technique is strong it still pales in comparison to this method of application. Next on the list would be Mowa Sozo - while it is common that the 9 tails Jinchuriki could manipulate chakra to a godly level. The application of this Flying Raijin left her down to one individual, Sayu Hyuga. - Being the only one who could essentially "carry his flying Raijin on the winds of chakra" Yozu had tapped on the floor three times. This sent out a Morris code vibration in all the houses constructed from her wood to evacuate now, giving the civilians a chance to escape and that they did. All leaving through the main gate.

In this instance, Yozu is stating she'd be aware of the individual that was coming. Her reasoning was that "Bureau of Jutsu Conservation, any technique deemed to be S rank or higher is stored in this and she would know of it, so unless he learned it from no scroll/no mentor and learned it PHYSICALLY himself with no aid." Which could be plausible, had it not been given to Sayū through Mowa Sozo, during his time as Hokage, who never stated in his post where the scroll was received from and whether or not he even mentioned it that is where he received it from. All that was stated was to study the contents within the scroll and then dispose of the scroll, which was done
Plausibility
, lack of information.
Lastly, Yozu's subterranean network of vines, tendrils, and/or branches which is somehow "indirectly" applied. She states that Yozu has a network of vines all over Konoha and they have their own tenketsu points, which would not make sense as this is the definition of tenketsu points in Naruto:
"Tenketsu (点穴, English TV: Chakra Points, literally meaning: pressure point) are nodes from which chakra can be released. The human body has 361 tenketsu, each of which is located along the chakra pathway system."
The plausibility of such a technique is not possible. Furthermore, Jade herself stated that the technique she used - the wiki page of said technique is not up to date and that the method she used this technique in her post - "The application" has changed. Using precedent from last case, the subterranean network of vines, tendrils, and/or branches should be voided.
Attached below are screenshots of the conversation that had taken place between the two of us: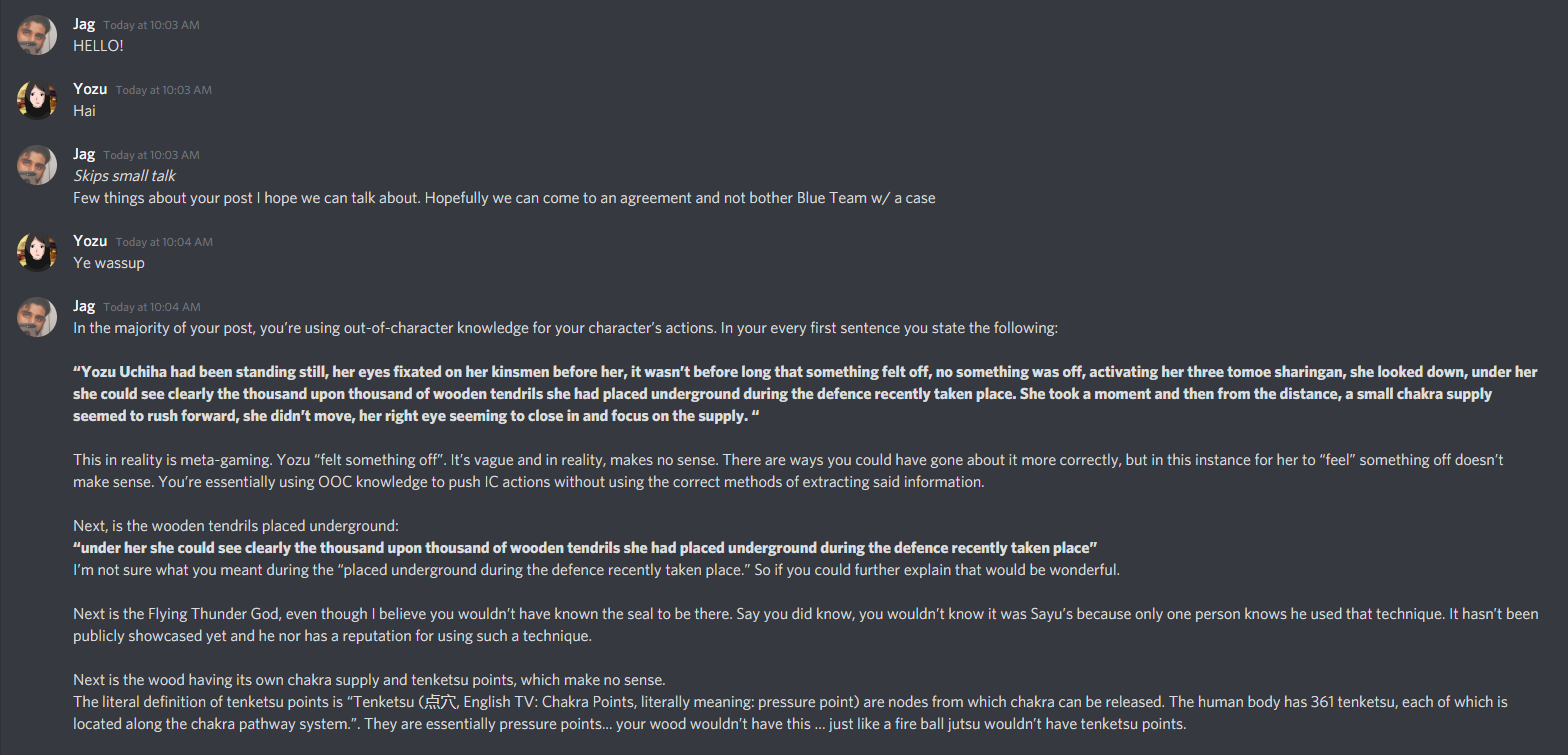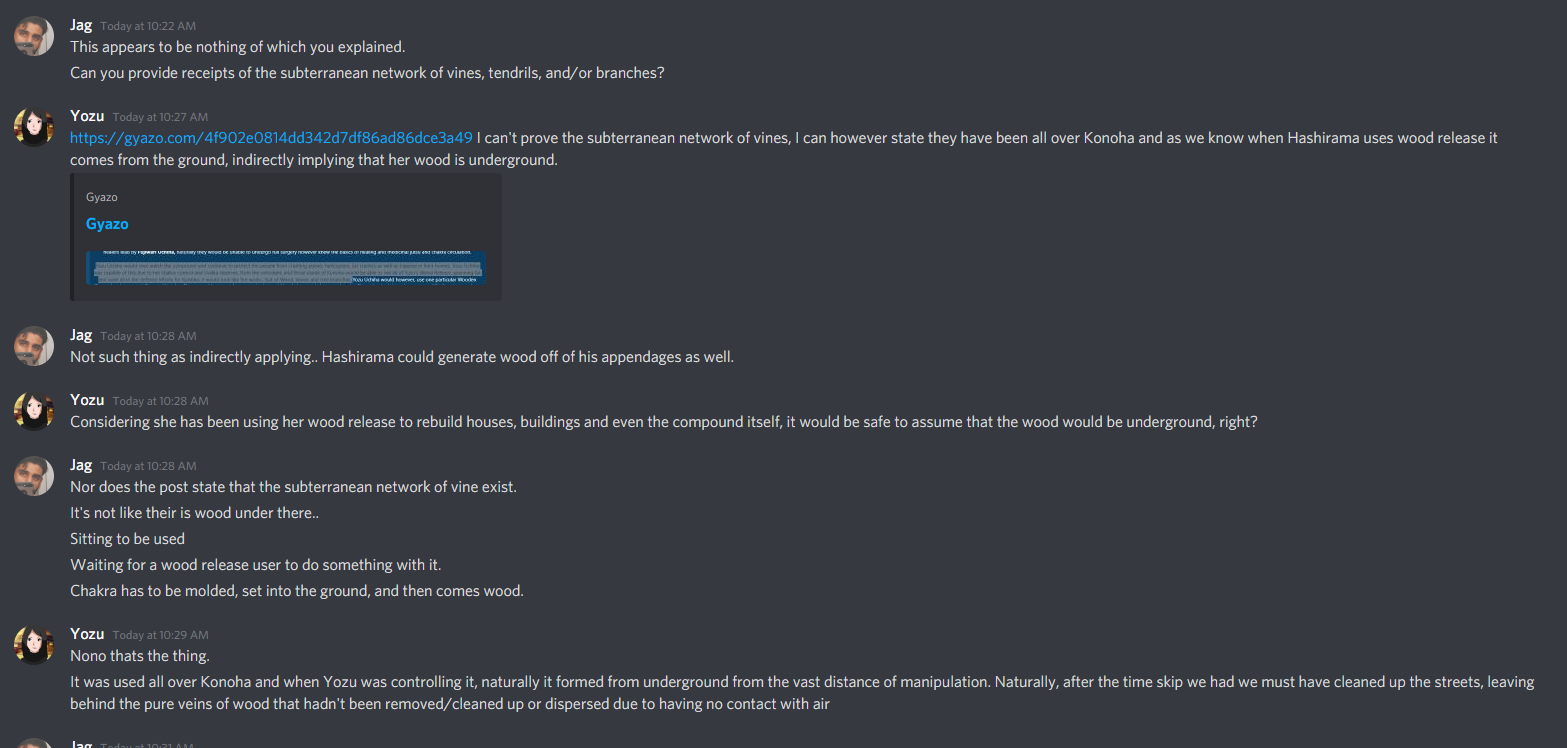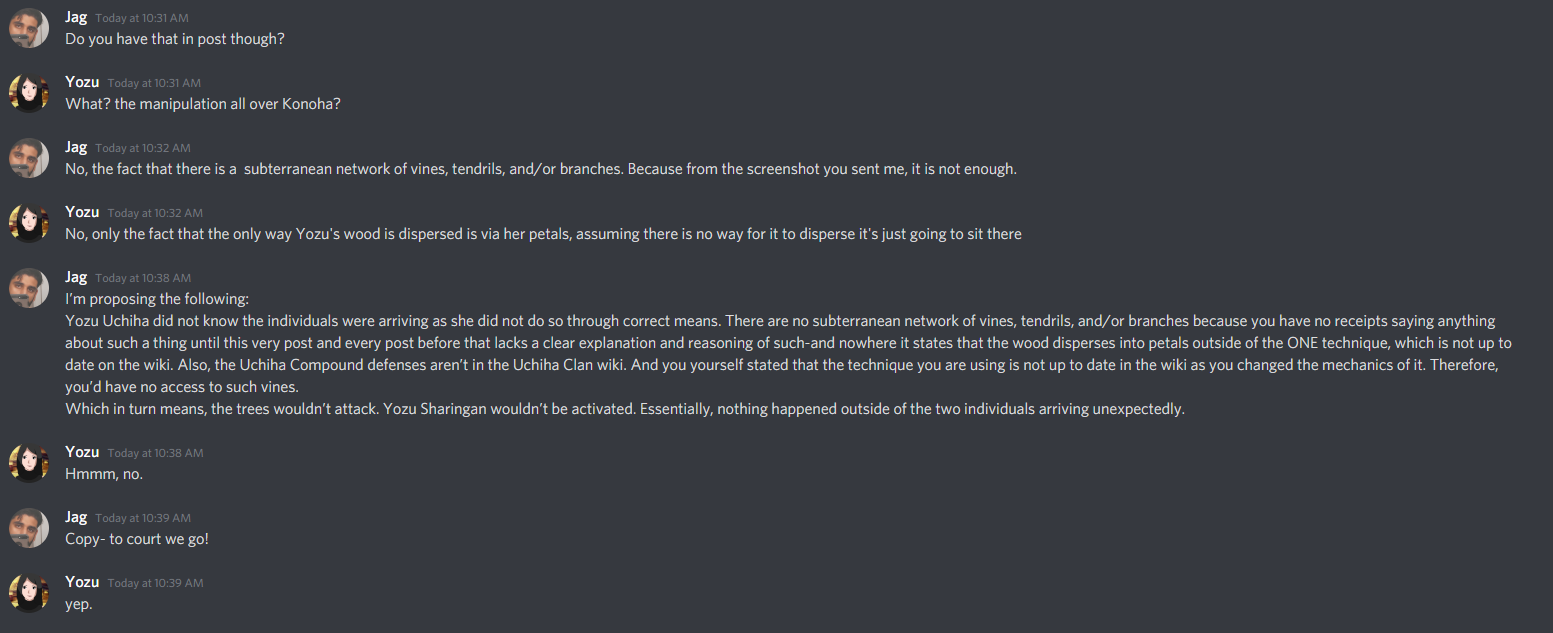 Proposed Solution:
Due to the inaccuracies in methods and lack of description I am proposing the following solutions:
Sayū Hyūga and company were undetected.
Which would result in Yozu not being aware of the individuals arriving thus her Sharingan being inactive.
The clones have not returned immediately as Jade had written, since they were spread throughout Konoha.
There is no subterranean network of vines, tendrils, and/or branches therefore there is no attack based off of them, including the spores and so forth.

As 1) The Wiki Page for the Jutsu is not updated & 2) The Uchiha Clan page is not updated with the defense system. If we are using past precedent of rulings, without an up to date wiki page, it should be negated.
In reality, her whole post should be negated outside of her initiating the attack once Sayū had finished speaking.